It can be painful to search for the best award flight option across all three alliances. Add non-alliance airline partners as well as a flexible destination, and search becomes a nightmare.
Fear not – there are a few good options for finding a best bookable flight, albeit all of them are not free.
First tool is AwardLogic – you need a specific origin and destination, dates are semi-flexible in +1/-1 day range. What's really flexible is airlines selection – you don't have to specify the airline or alliance partner (you can if needed). Moreover, this service knows about points to miles conversions (chase, amex, citi, etc), including current conversion bonus, and it will show you all available award seats and points/miles prices. This service also knows about US, UK and AU specifics. Prices start from $5/day and $20/month. Great thing about this service – it shows you the options and mile costs even without the subscriptions, though the program/airline details will be hidden. Another good thing is – ability to filter out mixed-class flights. Also I have seen some interesting Avianca hacks in the search results. Here is the sample outcome for the JFK -> Buenos Aires search 6 months from now.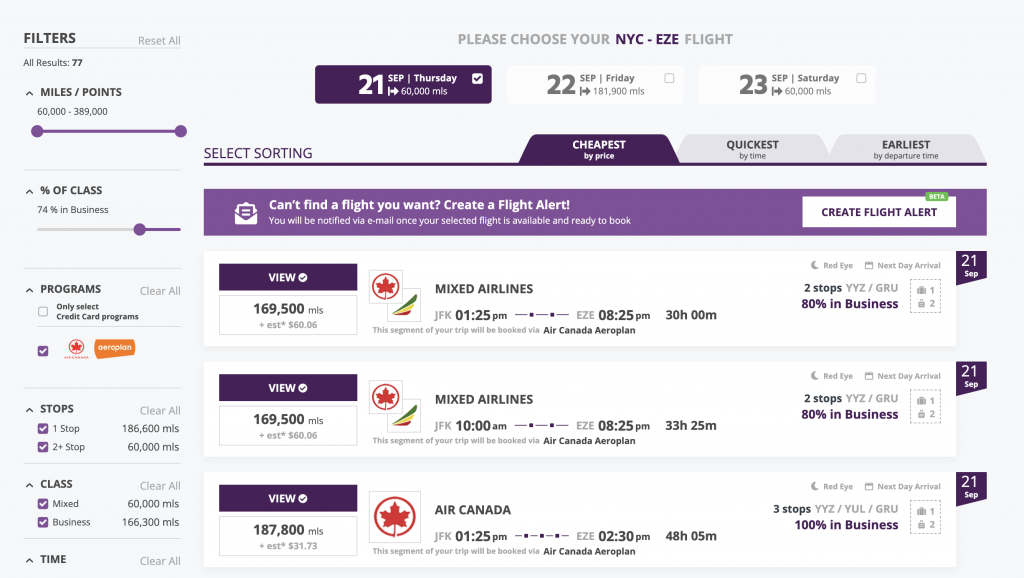 Point.me is a neat tool, similar to AwardLogic. Single origin, single destination, specific date only. Prices are fairly affordable – $5/day or $12/month. Results are pretty consistent with AwardLogic. It doesn't have a few options like Icelandair though. Here is the sample result for the JFK -> Buenos Aires search 6 months from now.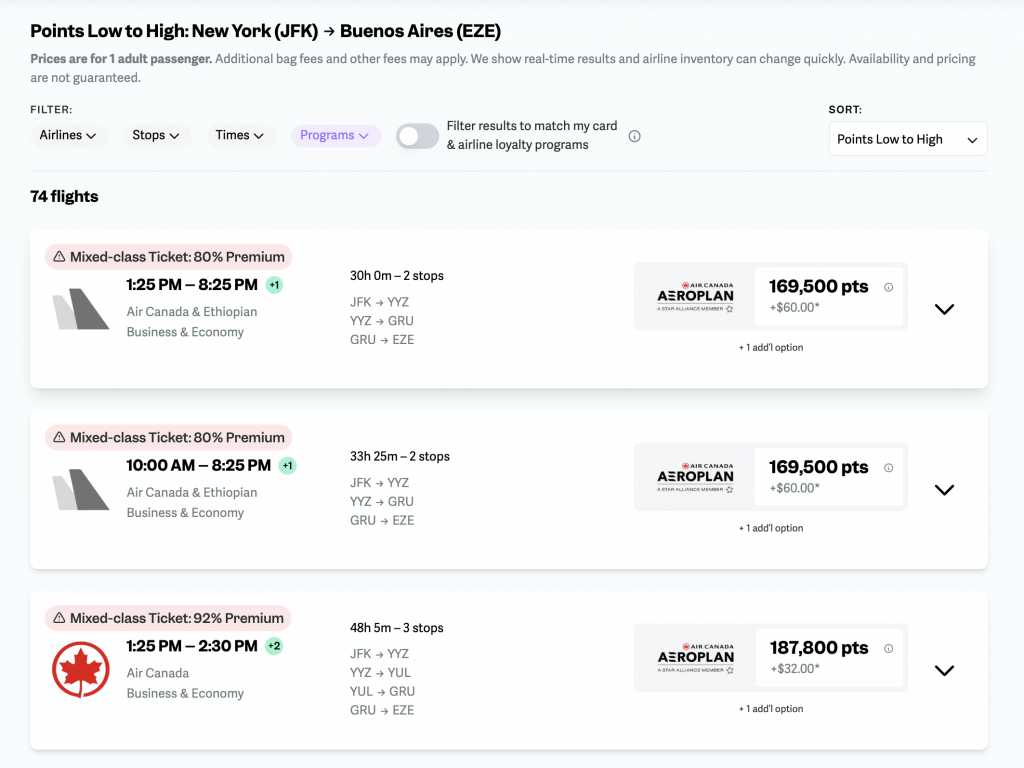 AwardNexus is another interesting tool, it allows FlyerTalk forum members to run several searches for free. Otherwise it starts from $60/year. I chose the word "interesting" because the user interface is awkward, it doesn't show the miles per flight until you click the specific itinerary. Good thing you can filter miles on the left side and see if there are any mixed cabin routes in the output.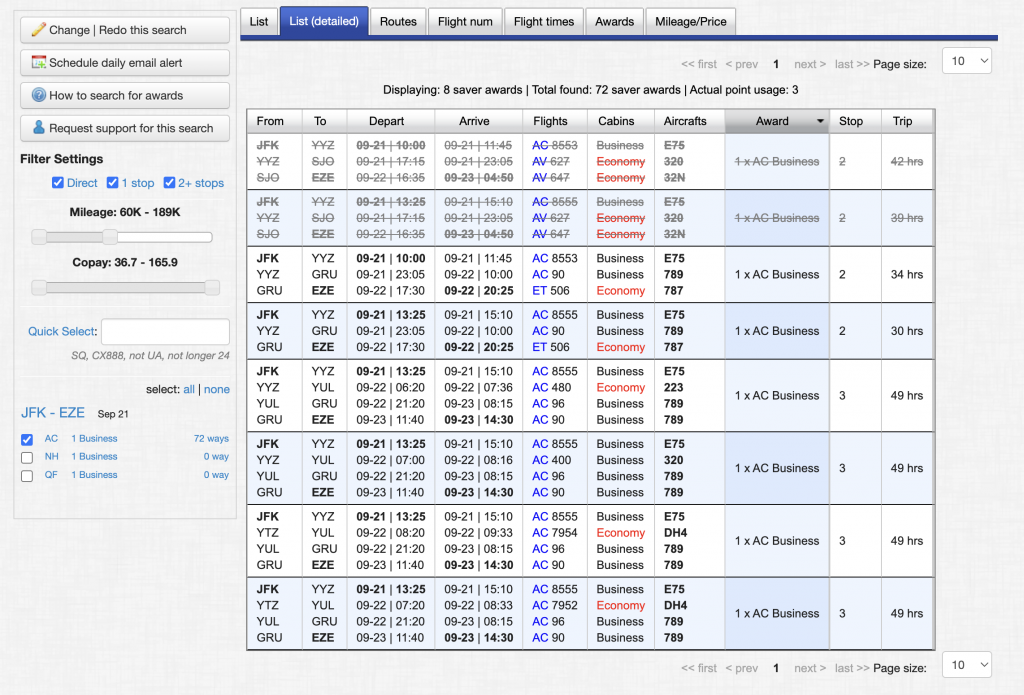 AwardFares is a different breed of search, too bad it works only for Star Alliance. This one allows you to add multiple destinations, even entire regions, like Europe, caches previous searches across all users, and shows them in a timeline chart across a few months. It doesn't show the necessary number of miles, but it shows the number of seats available on the flight per program.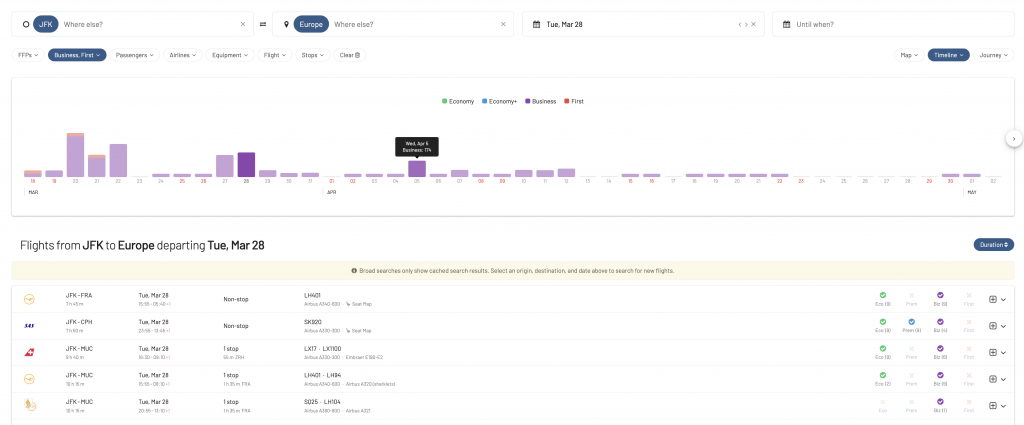 Award Hacker isn't suitable for finding open awards seats, but it can help with finding all potential award flights to get from point A to point B. Same is MilezBiz.
Another option is ExpertFlyer – you have to select the airline, specify departure city, arrival city, and specific date. Then you can create an alert for newly released award seats. This service is great only if your travel isn't flexible. Unfortunately it doesn't show the number of miles needed for the flight.
MilesBiz is a tricky tool allowing you to search random destinations to maximize your miles.
To me, AwardLogic is a winner by a short margin, with Points.me being a close second.